About the Artist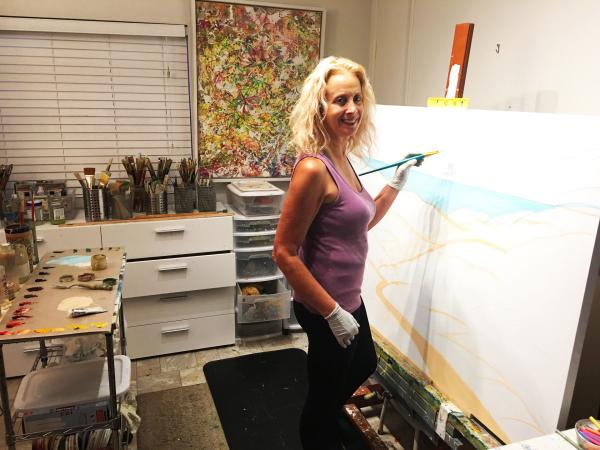 Using oil on canvas, I paint in a dynamic, colorful and unique style. Influenced by Impressionism, Post-Impressionism and Abstract Expressionism, I have forged my own vision that expresses joy and harmony to soothe the spirit and enhance one's experience of the world in a positive way. I like to paint large canvasses that draw you into the scenery so you can feel immersed in its beauty.
I was born in London, England and began to paint when I was five. My out-of-town cousin came to visit when my younger brother and I were staying at my grandparents' house one weekend. I had never met him before and never saw him again after that weekend but he had a lasting effect on my life. I remember sitting at the dining table in the kitchen and he brought out a set of paint by numbers and showed me how to use them. I was totally entranced by the small pots of paint, the smell of the oils and the little brush. I bathed in the loving attention that seven-year old cousin gave me while showing me how to paint, matching the colors with the numbers till it produced a recognizable scene. I was mesmerized by the process and have loved painting ever since that day!
I chose a high school that was well renowned for its Art Department, then attended the Byam Shaw School of Painting & Drawing, the Central School of Art & Design and the Camden Arts Centre, but I was very restless and could not settle down. I learned to type and became a secretary, moving from job to job. Then I started my own business buying and selling decorative mirrors. However, I was not happy at home and ran away to travel around the world. Making my way slowly through Europe and Asia, I stopped to paint, study and work in many places such as France, Greece, India, Sri Lanka, Bali, Japan and Hawaii. When I arrived in California I was exhausted and was finally ready to settle down. A friend brought me to Santa Cruz, a peaceful and healing place to live by the ocean, and I have lived there ever since. I went back to school, studying graphics, fine art and interior design. I worked first as a logo designer and sign painter, then transitioned into interior design, and worked to become an independent consultant. I painted in my spare time and when I began to sell my work, I gave up interior design to become a full-time artist.
The road was long but I have been happy ever since becoming an artist, moving from watercolor, to oil, on to acrylic and finally back to oil. I am always striving to create better paintings and feel that my career as an artist is a continuous journey of discovery and adventure..
Selected Collections, Awards & Exhibitions
2023 Poster Award, La Quinta Art Celebration Encore, La Quinta, CA
2023 Two Mayor Awards, Los Altos Rotary Art in the Park, Los Altos, CA
2021 Kaiser Permanente, Santa Cruz, CA
2020 Southwest Art Festival Poster Award, CA
2018 JCOS Art Haus, Group Exhibit, CA
2018 Creative Grant, unSCruz, Santa Cruz, CA
2017 Special Juror's Award, ARC Gallery, San Francisco, CA
2014 Capitola Art & Wine Festival Poster Award, CA
2014 Monte Foundation Poster Award, CA
2003 Museum of Art & History, Group Exhibit, Santa Cruz, CA
2002 Best Fine Art, Almaden Valley Art & Wine Festival, CA
2002 Best Visual Artist, Good Times, Santa Cruz, CA
2001 Capitola Begonia Festival Poster Award, CA
2000 Capitola Art & Wine Festival Poster Award, CA
2000 Capitola Twilight Concerts Poster Award, CA
2000 Celebrate Santa Cruz Poster Award, CA
1999 Celebrate Santa Cruz Poster Award, CA
1997 Impact Award for Excellence, CA
1997 Cover Artist, Capitola Mall Directory, CA
1996 Cover Artist, Capitola Mall Directory, CA
1994 Watercolor Biennial, Triton Museum of Art, CA
1993 Winsor & Newton Achievement Award
1993 Los Gatos Museum of Art, Group Exhibit, CA
1987 Plantronics, Santa Cruz, CA